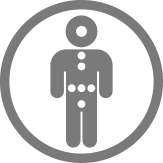 Endocrinology in general
Hormone & metabolism centre in Mainz: information about endocrinology
The science of hormones
Hormones are messenger substances that are formed in the body's glands. Via the blood, they reach other organs where they regulate various functions and metabolic processes. Disruptions in the hormone cycles often have extensive ramifications for the patient's well-being. The most well-known endocrinological diseases are diabetes mellitus, thyroid diseases, osteoporosis, the female menopause or also the metabolic syndrome, for example.
Metabolic disease
The metabolism is understood to mean the uptake, transport and chemical conversion of substances in an organism and the emission of metabolic products into the environment. The metabolism is broken down into an anabolic and catabolic area as well as substance conversion.
Examples of metabolism include energy metabolism, i.e. the conversion of chemical substances to obtain energy, iron metabolism, glucose metabolism, amino acid metabolism and others. Thyroid metabolism, steroid metabolism (adrenal glands, gonads), muscle metabolism, lipid metabolism, bone metabolism and cerebral metabolism are of interest in the field of endocrinology. Metabolic diseases are therefore generally taken to mean all hormonal diseases, as each dysfunction of an endocrine gland affects the metabolism.
If you have any questions, feel free to contact us. We will be delighted to help you!