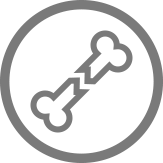 Osteoporosis
Hormone & metabolism centre in Mainz: information about the thyroid gland
Osteoporosis – focus of treatment at the hormone & metabolism centre in Mainz
Commonly referred to as bone loss, osteoporosis is a very widespread disease, particularly in people over 50 years of age. It is one of the ten most common diseases worldwide – a widespread disease in the truest sense of the word. The majority of those who succumb to it are females.
As it progresses, the disease can significantly limit the patient's quality of life. We focus on this clinical picture at our endocrinological practice in Mainz.
What is osteoporosis?
In this chronic bone disease, the relationship between bone formation, bone breakdown, bone density and bone quality has become unbalanced. Progressive destruction of the bone structure occurs. Bones first become porous and fragile, and then fracture. This typically affects the hips, femurs, spine or forearms, for instance.
In our body, the bones act as a crucial, stabilising structure.
Our skeleton ensures that we are able to walk and stand upright, move and use our limbs as tools. Our bones also act as stores for calcium and phosphate. Our skeletal system is not an unchangeable structure. Quite the opposite: modifications take place constantly in the skeleton. Up to around the age of 35, this largely involves the formation of new bone tissue. Bone breakdown begins after the age of 35. Each year of their lives, healthy people lose around 0.5 to 1% of their bone mass. Bone mass loss is significantly faster in people suffering from osteoporosis. The rate of bone breakdown can then be as high as 6% per year.
Osteoporosis is characterised by two changes in the bone structure:
Accelerated breakdown of bone structure, fast decrease in bone mass
The formation of bone tissue is disturbed and the changed bone structure is susceptible to fractures
Bone loss is a metabolic disease. As endocrinologists, we deal extensively with metabolic issues, amongst others, in Mainz.
Not only hormones – bone loss: causes and risk factors
There is usually not just one cause of osteoporosis. Amongst others, the following are considered risk factors for bone loss:
Malnutrition and undernourishment leading to a low body weight
Possibly, a genetic predisposition
Hormonal changes as we age
Insufficient demands made on the bones due to too little exercise
Vitamin D and calcium deficiency
Drugs such as cortisone
Consumption of alcohol and nicotine
Frequent falls
According to our current level of knowledge, oestrogen deficiency, early onset of menopause and the removal of the ovaries increase the risk of females developing osteoporosis.
A distinction is basically made between two forms of bone loss:
The primary form particularly affects females, or also males as they age, due to their changed hormonal structure and other influencing factors
The secondary form is related to other diseases. These include, for instance, diabetes mellitus (type 1), thyroid gland diseases such as hyperthyroidism or rheumatic diseases
The respective courses of these diseases may differ with regard to the severity of the consequences of osteoporosis. In our endocrinological practice in Mainz, our aim is to give sufficient consideration to these individual factors, particularly during therapy. We regard ourselves as medical contacts for osteoporosis patients and osteoporosis prevention.
Highly effective drugs are available to combat osteoporosis, such as the oral bisphosphonates, which are administered once a week. These are also available for intravenous therapy, e.g. via the so-called "annual infusion". Otherwise, denosumab (Prolia®) is often used; it is administered as a highly-effective abdominal injection every 6 months. Drugs that stimulate bone formation, such as teriparatide and romosozumab, are alternatively available. The drug to be used must always be discussed with the patient in the individual case.